Funeral Flowers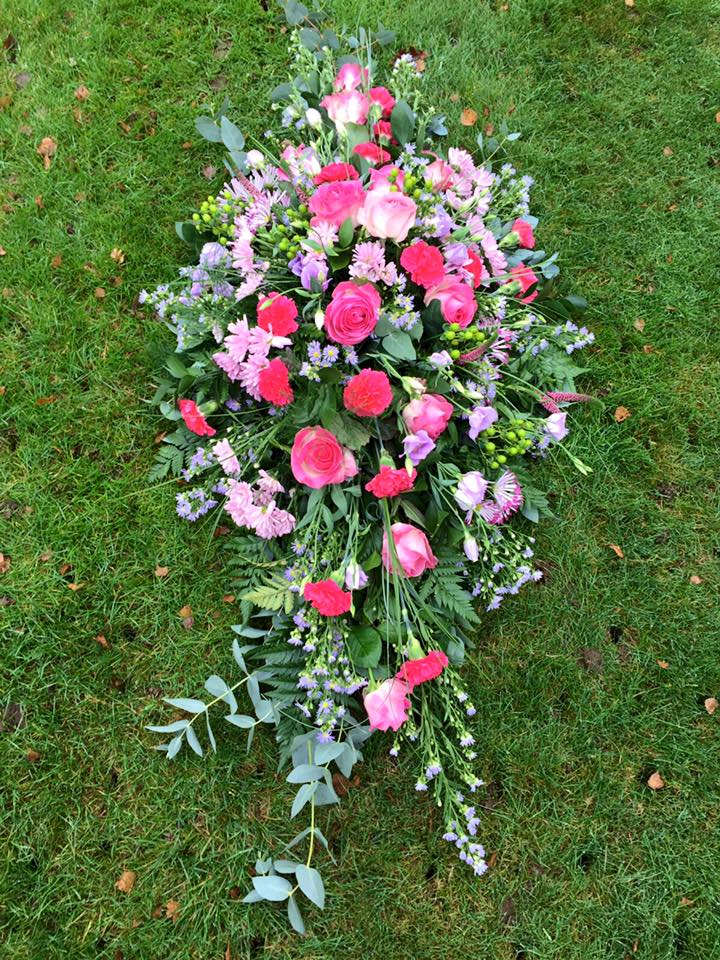 At a sad time of loss and grief, the right words can be hard to find. The beauty of flowers can speak a thousand words and help share heartfelt emotions, whist offering a sign of support and comfort to those mourning. Our compassionate florists understand this is a sensitive time, and are on hand to offer guidance in choosing the right funeral flowers to say farewell in your own way.
Specialists in bespoke funeral flowers in Warwickshire
Head florist Melanie and her talented team specialise in bespoke funeral flowers, with every design expertly hand crafted with care and love. Whether you choose an elegant coffin spray, colourful wreath, simple sheaf of favourite blooms or a bespoke funeral tribute, we will create beautiful flowers. Our funeral and sympathy flowers can be created in a preferred colour scheme or include favourite flowers, adding a real personal touch.
Choosing a bespoke funeral tribute can help share personal memories or represent a special message, allowing you to say goodbye in your own way. Melanie Webb Flowers can design bespoke funeral tributes to reflect hobbies, passions or interests of your loved one – such as football teams, airplane, favourite animals, affectionate nickname and many more.
funeral flowers in Rugby
We can arrange delivery of sympathy and funeral flowers direct to local churches, crematoriums, funeral directors or family home in Rugby and the surrounding local areas. With fresh flowers available in store, we can create funeral flowers at short notice if required, however as much notice as possible is preferred. Specialists funeral flowers such as bespoke tributes and letters require 4 days' notice.
Please have a browse of our funeral and sympathy flowers to buy online or browse our specialist tributes for our bespoke funeral work for ideas and inspiration. We understand that at such a difficult time it may be hard to come to the shop to discuss your requirements, so we are more than happy to arrange a home visit. Please give us a call or contact us by email to book a suitable time for you.
Kind words for Melanie Webb Flowers
Highly recommended! My husband requested an usual funeral tribute, which Melanie discussed and researched for us. The tribute was fantastic, and helped capture a childhood memory. All members of the team were really helpful. Thank you once again.Sarah Webb, October 2018 on Google
Melanie I can't thank you enough for the care taken over the arrangement of flowers for my father's funeral and the efficiency of delivery. Will definitely use your services again although hopefully under more cheerful circumstances. Nicola Webb, February 2018 on Facebook
Melanie did the arrangements for my late husband's funeral flowers, several in the church, and a personal one from me, and others for several family members. She did an amazing job and I was thrilled with her work. I can thoroughly recommend her. Linda Denham, February 2018 on Facebook